this is the food i like eating.
Fullcourse Menu
Nitram's real life Full Course Menu
Nitram's Full Course Menu
Course
Ingredient
Capture Level
Status
Hors d'Oeuvre
Potato french fries with ketchup and mayonase
Unknown
Decided
Soup
Thin soup
Unknown
Decided
Fish Dish
Fish sticks
Unknown
Decided
Meat Dish
Steak and meat kebab
Unknown
Decided
Main Course
Pizza ham and Wuster
Unknown
Decided
Salad
Salad with boiled potatoes and carrots
Unknown
Decided
Dessert
Tiramisù
Unknown
Decided
Drink
Cola with ice and a slice of lemon
Unknown
Decided
Favorite characters
Followed Wikis
Abilities and Powers Fannon
hear the voice of the ingredients
Intimidation
light and darkness manipulation
hunting method
Combining the food honour and the revitalizing kitchen knife technique nitram can cut a beast without the animal suffer and the part taken regrow instantly so nitram eat a lot of ingredients without kill any animal.
Intimidation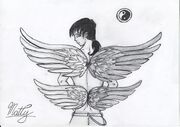 his intimidation take the form of a angel with 4 wings every pair have a light and a dark wing.
Light and Darkness manipulation
thanks to his gourmet cell he can manipulate elettromagnetic waves controlling in that way light and shadows usualy he use that in difensive way creating shield of light or darkness or move at the speed of light.
light dark shield: controlling the light or the shadow around himself or other he can create a shield of solid light or shadow.
light dark sword: solidify the light and darkness in his hand he can create 2 swords using them as weapon he can use this ability only when realy angry.
Personality Fannon
nitram is a strong bishokuya and chef with gourmet cells but his hunting method is related to his personality try to get food without kill any ingredients because he think every animal have the right to live.
When he find a strong enemy he prefer dodging and use knocking instead of killing the animal.