Home
Talk

12
2,295pages on
this wiki
Toriko anime ended on Episode 147 with a "Human World Arc End" message, hinting at a possible future continuation.
J-Stars Victory Vs is out. Get your copy and enjoy playing Toriko & Zebra!
Manga is back from the hiatus with the start of the Gourmet World Arc!
The 11th Toriko ending, titled "Mega Raba" by Rurika Yokoyama, started airing on January 5th, 2014.
Toriko: Ultimate Survival is out in Japan!!
Crunchyroll is now streaming Toriko every Monday at 10:00am Pacific Time.
Movie: Bishokushin's Special Menu's BD/DVD is out!
Toriko Movie got a Korean Dub in November 28th.
Toriko Wiki has been affiliated with Black Cat Wiki and Vinland Saga Wiki!
Introduction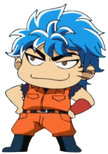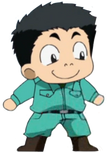 In a savage world ruled by the pursuit of the most delicious foods, it's either eat or be eaten! This is the great era of gourmet food!
While searching for the tastiest foods imaginable, Gourmet Hunter Toriko travels the world with his bottomless stomach. And only Toriko can hunt down the ferocious ingredients that supply the world's best restaurants.
As a gourmet hunter, Toriko tracks and defeats the tastiest and most dangerous animals with his bare hands.

Featured Article

The Death Gore was a super gigantic herbivorous species from ancient times whose existence brought the world into a state of near-annihilation. It was said to have been born from a mutation and its horrific appearance combined with its destructive nature made humanity believe that it was an incarnation of the Devil.

...Read more
Toriko Sites
Anime
Manga
Games & Merchandise
Other
Latest Affiliations
Want to affiliate with us?
If you would like to become an affiliate of Toriko Wiki contact us.
Featured Music
Movie OST Theme 23: Super Girimu no Kyoui
Poll
What's your favorite Intimidation?