Home
Talk

12
2,148pages on
this wiki


The 11th Toriko ending, titled "Mega Raba" by Rurika Yokoyama, is slated to air on January 5th, 2014.
Toriko: Ultimate Survival is out in Japan!!
Crunchyroll to stream Toriko starting next week!!! It is set to broadcast every Monday at 10:00am Pacific Time.
Two new trailers for Ultimate Survival are out, introducing playable characters (Brunch, Midora, Ichiryuu, Jirou) and game-only rival characters, one of which is drawn by Shimabukuro.
Toriko Movie is getting a Korean Dub by November 28th.
Movie: Bishokushin's Special Menu's BD/DVD will be released on December 6th!
Zebra confirmed to be playable in J-Stars Victory Vs.
A new trailer for the Movie is out. Check it out here.
Toriko Wiki has been affiliated with Gigantomakhia Wiki, Jojo's Bizarre Adventure Wiki, Shaman King Flowers Wiki, Saint Seiya Wiki and Shokugeki no Soma Wiki!
Introduction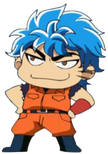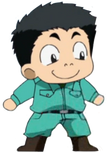 In a savage world ruled by the pursuit of the most delicious foods, it's either eat or be eaten! This is the great era of gourmet food!
While searching for the tastiest foods imaginable, Gourmet Hunter Toriko travels the world with his bottomless stomach. And only Toriko can hunt down the ferocious ingredients that supply the world's best restaurants.
As a gourmet hunter, Toriko tracks and defeats the tastiest and most dangerous animals with his bare hands.

Featured Article

The Galala Gator is a behemoth-like reptile beast that resides in the Baron Archipelago and is at the very top of the ecosystem. Though its species propagation capacity is limited, it makes up for it with a fierce attitude for survival. Some even live well beyond 300 years of age.

...Read more
Toriko Sites
Anime
Manga
Games & Merchandise
Other
Latest Affiliations
Want to affiliate with us?
If you would like to become an affiliate of Toriko Wiki contact us.
Poll
What's your favorite Intimidation?