Toriko Jump Special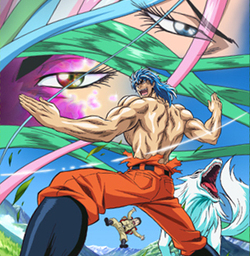 OVA 2
Information
Kanji
トリコ: バーバリアンアイビーを捕獲せよ!
Romaji
Toriko: Barbarian Ivy o Hokaku Seyo!
Duration
{{{Duration}}}
Release Date
Date
{{{Date}}}
Opening
{{{Opening}}}
Credits  
Currently no credits are available

The second Jump Super Anime Tour special which aired in 2010.
Type: Special
Aired: ?
Duration: ?
Producers: ufotable
Opening Theme: ?
Ending Theme: ?
Anime and Manga Differences
Edit
References
Edit
Ad blocker interference detected!
Wikia is a free-to-use site that makes money from advertising. We have a modified experience for viewers using ad blockers

Wikia is not accessible if you've made further modifications. Remove the custom ad blocker rule(s) and the page will load as expected.