Tina (ティナ, Tina) is a television reporter who appears in the anime series. She is a news anchor and host of Gourmet News. She is a frequent character in the series, normally appearing wherever Toriko goes to in order to get a scoop on the various rare ingredients he encounters. She also has a Carrier Balloon Pigeon named Kruppoh. Despite only appearing in the anime, she makes a small cameo appearance in chapter 145 of the manga.
Appearance
Edit
Tina is a young woman with brown hair, brown eyes, light-colored skin and her signature attire consists of a pink skirt, a pink button-up shirt, red high-heel shoes and a white undershirt.
When doing reports outdoors she wears a more sporty outfit which consists of a short pink tank top which exposes her midriff, blue shorts and running shoes, and while wearing this outfit she ties back her hair into a ponytail.
She also has formal attire when attending important events, this outfit is a white gown with a pink sash tied around her waist and while wearing it she curls up the ends of her hair. She is also usually seen with a small red digital video camera with which she records most of her scoops.
Personality
Edit
While seemingly cheerful and humble on camera, she is actually an extremely determined, confident, and strict person (albeit is very eccentric most of the time) who will do anything for a big story (especially ones involving Toriko), however like the rest of the folk born in the Gourmet Age, she has a great love of food and will sometimes lose her composure when in the presence of amazing dishes, such as the Galala Gator or the Fruit of Rainbow. She also has a good deal of knowledge on certain ingredients and the history of the world.
Rainbow Fruit Arc
Edit
Potential Scoop
Edit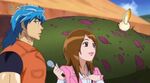 She first appeared in the Gourmet Wholesale Market, where she was trying to get a scoop on the ingredients for sale, but instead spent most of her time complaining about the quality and freshness of certain ingredients. In the anime, after seeing Toriko and Komatsu in the market she tried to get an exclusive interview with Toriko but was stopped by the IGO representative Johannes who had important business to discuss with Toriko. However she managed to overhear about their mission to acquire the Fruit of Rainbow and she then decides to tag along in secret and hopefully get a big scoop out of it.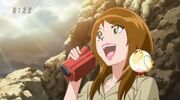 After arriving at the 8th Biotope, she observes Toriko fighting off the Troll Kongs and then records his capturing of the Rainbow Fruit, which leaves her astonished, however her camera was soon after confiscated by Johannes and IGO security after they discovered her infiltration into the Biotope, but was let off with a warning. In the end she left not only disappointed, but without her scoop.
Puffer Whale Arc
Edit
Labyrinth Cave Report
Edit
When the Puffer Whale migration in Labyrinthine Cave began, Tina quickly arrived on the scene to interview all the Bishokuya preparing to capture them. While there she came across Toriko, Komatsu and Coco who were also planning on capturing some Puffer Whales, and seeing this as an opportunity for a scoop, she planted a small camera on Komatsu's helmet in hopes of recording a live capture of the Puffer Whales. However this would prove unsuccessful as by the time they reached the Cave of the Sandy Beach, Komatsu had taken off his helmet leaving Tina with little footage, and what little footage she had gained was completely ruined when her laptop was damaged by a Bishokukai GT Robo who had just poached countless Puffer Whales. To further her misfortune, her mini-camera which held footage of the GT Robo was taken by IGO security in order to analyze said footage, leaving her with nothing to report.
Regal Mammoth Arc
Edit
On the Spot Coverage
Edit
BB Corn Arc
Edit
Search for the Wulstar Fruit
Edit
Century Soup Arc
Edit
Scoop of the Century
Edit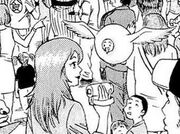 Tina and Kruppoh made a cameo appearance in Chapter 145 of the manga.
| | |
| --- | --- |
| | This article or section is a stub! |
| "Hey, Komatsu! This food is lacking something! Bring on the spices!" | |