Seikimatsu Leader den Takeshi!

Seikimatsu Leader den Takeshi! (世紀末リーダー伝たけし!, lit. "A Tale of a Leader in The End of the Century Takeshi!") was a manga series written and illustrated by Mitsutoshi Shimabukuro and the very first manga he had published in Weekly Shonen Jump.
The manga tells the story of a young man named Takeshi who was born to be a leader. Takeshi always dreamed of being a leader like his father Hiroshi, who was considered a leader among salarymen, however when his father died Takeshi became more determined than ever to become a leader like him and after starting school for the first time, he decides to prove himself by becoming a leader to his classmates.
Reception
Edit
The series was one of the most popular children's manga during its run and enjoyed much success. The manga also won the 2001 Shogakukan Manga Award for best children's manga. The manga also won Shimabukuro an Akatsuka Award for best new comic manga writer. While the series was never picked up for an anime, it did receive an anime OVA for the 2009 Jump Festa special which was screened in front of a live audience.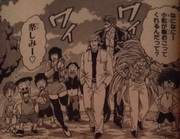 Even after the series ended, Shimabukuro continues to have Takeshi and a few other characters from the manga appear in some of his other works, most notably Toriko, where the young Takeshi and his friends appear regularly as background characters, and both Toriko and Takeshi have even had a manga crossover special together.
Ad blocker interference detected!
Wikia is a free-to-use site that makes money from advertising. We have a modified experience for viewers using ad blockers

Wikia is not accessible if you've made further modifications. Remove the custom ad blocker rule(s) and the page will load as expected.