| | |
| --- | --- |
| | This article or section is a stub! |
| "Hey, Komatsu! This food is lacking something! Bring on the spices!" | |

Rikky is a large Hayanpanther that Mansam keeps as a pet and animal partner. It lives at the 1st Biotope with Mansam.
Appearance
Edit
Personality
Edit
Rikky is a noble and faithful animal partner who adores his master Mansam and both have a very close bond. Rikky has quite the sweet tooth and it adores ice cream, as such, Rikky's favorite food is Horohoro Parfait. It also appears to be good friends with Rin.
Abilities
Edit
He is a strong and large beast with incredible speed and strength. His speed allows him to swiftly catch a GT Robo core and he has enough strength to smash its gold structure with ease. His wings allow him to fly at great speeds and travel to other nations in a short time. Its capture level was originally 35 when he was first introduced, but as the story has progressed, he has grown considerably, now having an estimated capture level of around 70 and stands around the same height as the now giant Terry Cloth.
Regal Mammoth Arc
Edit
Rikky is first seen while Mansam is doing exercise.
During the
Gourmet Coliseum
's fight between
Toriko
and
Bei
's Robo, and when Bei was finally defeated, Bei's Robo's core antenna tried escaping the place, but Mansam ordered
Johannes
and the coliseum staff to open the hatch to his room, where Rikky was. Rikky swiftly dealt the finishing blow to the antenna by Mansam's orders. He was again seen in the dining room when Mansam invited Toriko &
Komatsu
to his
Full Course Menu
.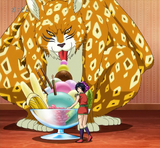 Mansam commented that
Terry
, a
Battle Wolf
, who's never is to never get attached to anyone, got attached to Toriko, just like Rikky did with him. Meanwhile, Rikky was eating a giant
Horohoro Parfait
together with
Rin
.
Century Soup Arc
Edit
He was sitting as usual with Mansam and smiled to Coco when Coco, who came by a request from Mansam to help Toriko get the Century Soup, entered the room.
Meteor Garlic Arc
Edit