Revitalizing Kitchen Knives
Comments

2
1,820pages on
this wiki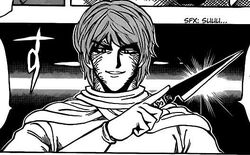 Revitalizing Kitchen Knives (蘇生包丁 Sosei Houchou) are a special type of knives forged using organisms with regenerative function and minerals that stimulate that function; cutting an ingredient with this knife the cells of the ingredient become active revitalizing the wound.
To use this knife a near superhuman ability is needed in order to pass the knife in the gaps between cells without damaging them; if someone can use it freely an ingredient can be eat almost infinitely by restoring it little by little; in order to complete the regeneration eating high nutritional value ingredients is needed.
The use of the revitalizing kitchen knife is limited by the IGO in fear of them upsetting the circulation of food. The knife can only help the regeneration of an ingredient or person but can't revitalize dead people or beasts.
Know users
Edit