Knocking (ノッキング, Nokkingu) is a special, non-lethal method of capturing wild beasts. It generally involves striking the nerves or pressure points that control movement of living creatures with the use of specialized techniques or the use of biodegradable needles fired from various implements known as Knocking Guns, which can paralyze beasts. This way any beast can be transported alive. However, the location of these nerves is different in every species so a great amount of knowledge and experience is required to use Knocking techniques or Knocking Guns effectively.
Bishokuyas can also apply for a patent on the knocking method required for a specific creature.
Knocking Techniques
Edit
The Knocking needles of Knocking Guns have a few varied uses as well. Specialized needles fired into the heart of a person or beast can start it beating again, allowing for the revival of the recently deceased. Knocking needles can also be used to stimulate a sudden increase in the power and size of muscles, rather than paralyzing them. Mansam and Jirou use this technique to cause their muscles to swell to enormous size, granting them great strength and a highly intimidating appearance.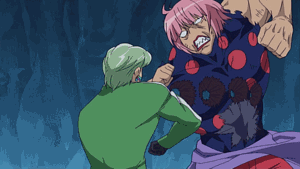 Knocking can also be performed with one's body and without the aid of devices, but these techniques require an exorbitant amount of skill, power and precision and have only been performed by extremely powerful individuals.
Intimidation Knocking (威嚇ノッキング Ikaku Knocking): Using Intimidation, Knocking Master Jirou paralyzes his enemies with fear.
References
Edit
↑ Chapter 16 and Episode 6