Joejoe
Name
Name
Joejoe
Kanji
ジョージョー
Romanji
Jōjō
Profile
Race
Human
Gender
Male
Professional Status
Affiliation
Bishokukai
Occupation
Bishokukai Mechanic
Personal Status
First Appearance
Manga Debut
Chapter 29
Anime Debut
Episode 2
Voices
Japanese Voice
Shimada Bin
English Voice
Brad Venable
[

v

 · 

t

 · 

e

]

Joejoe (ジョージョー, Jōjō) is a mysterious old man who works for the Bishokukai and monitors the GT Robos for them. He also appears to be the one who made Grinpatch's Straw.
Appearance
Edit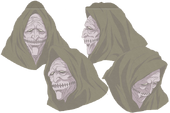 Joejoe is an old wrinkly man with a hunched posture and light purple skin who wears a dark brown robe that covers the majority of his body. He has no visible pupils and his mouth appears to be partially stitched closed. He always carries a large purple-colored wooden walking stick with him.
Personality
Edit
He has a lot of loyality to Starjun as he warn not to remove the pain limiters on gt robo, and stood up for him for Jewel Meat failure.
Galala Gator Arc
Edit
In the anime, one of Joejoe's spy robots is shown witnessing Toriko defeating the Garara Gator. Joejoe reports this to Starjun, seeming to express disappointment that it wasn't a more impressive ingredient that caused the disturbances in the Baron Archipelago.
Rainbow Fruit Arc
Edit
In the anime, after Toriko's capture of the Rainbow Fruit, Starjun finally decides to make his move and orders Joejoe to prepare his GT Robo.
Blue Blood Corn Arc
Edit
During his encounter with Toriko, Grinpatch mentions that it was Joejoe who made him his powerful straw from the proboscis of a Devil Mosquito.
Regal Mammoth Arc
Edit
Joejoe is first seen when Starjun arrived at the Bishokukai 6th Branch asking about the current progress of the Regal Mammoth mission. Joejoe then explained the current progress and upon hearing it he ordered Joejoe to prepare for him a GT Robo so he can aid in the mission and have a better chance at success.
Century Soup Arc
Edit
Joejoe is seen standing alongside Starjun in the banquet hall of Castle Shokuyokubō, during the Bishokukai meeting. When Grinpatch arrived, he asked Joejoe to repair his straw which had been damaged in his battle with Toriko, which he accepted.
Meteor Garlic Arc
Edit
Jojoe is seen greeting Niceny upon arriving at the Bishokukai Dining Kitchen. He then escorts him through the area and shows him the large amount of progress they have made with the newest models of GT Robos. He then takes him to the lounge area, where Tommyrod and Starjun are waiting for them, they then discuss the next phase of their plan which involves kidnapping the chefs from the IGO Chef Ranking, and Joejoe notes that capturing the likes of Setsuno, Zaus, Yuda, Kurakage, Wabutora, Moh, Tairan and Livebearer will prove very difficult.
His voice actor also voices Morita.