| | | |
| --- | --- | --- |
| | This article is the 2nd Featured Article on this wiki. | |
Knocking Master Jirou

The Knocking Master
Name
Name
Knocking Master Jirou
Kanji
次郎
Romanji
Jirou
Profile
Gender
Male
Birthday
2 February
Age
Over 200
Blood Type
B
Professional Status
Affiliation
Setsuno (chef partner),
Acacia (master, deceased),
Ichiryuu
Occupation
Bishoku-ya
Personal Status
Relatives
Teppei (grandson)
First Appearance
Manga Debut
Episode 4
Anime Debut
Chapter 8
Voices
Japanese Voice
Morikawa Toshiyuki
English Voice
Philip Weber
[

v

 · 

t

 · 

e

]

Jirou is a Bishokuya who is well known as being a "Knocking Master" in the Gourmet Age. He is an elderly person, who still hunts for Gourmet Ingredients and is one of the three legendary disciples of Acacia. He is currently trying to acquire GOD.[1]
Appearance
Edit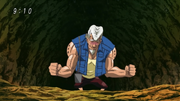 Jirou is easily recognized by his pompadour hairstyle as well as his goatee. When he doesn't use knocking on himself, he appears as a frail hunched old man. He can use knocking on himself to vastly increase the muscle mass of his body, though when not in the Gourmet World he doesn't seem to take this very seriously, only needing to increase his upper body to perform knocking on a Serpent of the Devil and successfully knocking several Puffer Whales. [2]
When he appears in the Gourmet World to save Toriko, Jirou's hair and goatee turn black and his body appears to be well-built, similar to his grandson Teppei's and he appears to become younger overall, how he does so is questioned by Toriko but he never reveals how, though it may be related to abstention from alcohol. or the piercing he has on his body that he normally lacks in his "old man" state. [3]
When in his usual "old man" state, he wears ragged and patched up clothing and cheap sandals that makes him resemble a bum, but when in Gourmet World he dons a tight black jumpsuit with bandages around the waist and right arm. When hunting in either form, he wears a blue leather vest in which he keeps all his knocking equipment and the vest can expand along with his size.
Personality
Edit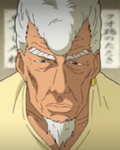 Jirou is a jovial, kindly man of simple pleasures; he goes so far as to state that to him, booze is life. The simple kindness of unselfishly offering him a drink is enough to gain his eternal gratitude, causing him to revive Komatsu and save Toriko from the Gourmet World when asked without asking for a reward. He even goes to Drunken Frenzy Island, the source of much of the Human World's liquor "8 times a week". According to Teppei, Jirou is a very mellow person who is almost always smiling. Teppei's shock at seeing Jirou stop smiling at the sight of a previous hunting ground which had been stripped barren of life influenced Teppei to become a Saiseiya.
Relationships
Edit
During his youth, Jirou partnered with Setsuno as a combo, often hunting rare ingredients in the Gourmet World. This relationship seems to have extended to intimacy, as both of them have the same source ingredients on their full course menus and Setsuno blushes when she mentions that she worked with him. Setsuno even change's Toriko's hairstyle to the pompadour due to her love for Jirou.[4]
Jirou cares for his grandson and has trained him in numerous Bishoku-ya arts, among them several of his knocking techniques. Teppei himself mentioned that he became a Saiseiya in order to save the environments and ingredients his grandfather cared about, citing Jirou's sad face as the reason for his path in life.
He holds great gratitude towards Toriko and Komatsu for giving him sake, which he repays by saving Toriko's and Komatsu's life. He continues to regard them as good friends and acknowledges that they have great potential.
Powers and Abilities
Edit
Hunting Method
Edit
As his title implies, Jirou uses a variety of Knocking Guns while hunting. His skill and knowledge are such that he can effortlessly knock any living creatures he comes across, even hundreds at a time, without a wasted shot. He is able to scare surprise apples up to level 92. He can even use his Knocking Guns to revive the recently deceased.[5]
Knocking Arsenal
Edit
Jirou carries many unnamed tools and knocking guns within his jacket, many of which are custom made and not sold anywhere.
Membrane Tool
Edit
One of Jirou's tools; it injects a special polysaccharides made from the Deep Sea Doctor Lobster to repair damaged membranes such as eardrums.
Jirou can inject knocking needles into an animal's heart and cause it to resume beating, effectively allowing him to revive the recently deceased. He uses this on Komatsu when his heart stopped after using a Toriko Cracker.[6]
Intimidation Knocking
Edit
Jirou can inject himself with knocking needles causing his muscles to swell and his body to grow to colossal size. In his state the mere sight of him is enough to frighten off the strongest of beasts with ease.
Knocking Rifle - Hard Type
Edit
A pair of knocking guns that fire needles to knock animals from a great distance. He keeps extra cartridges in his sleeves to allow easy reload.
'Axe' chop
Edit
A yet unnamed attack where Jirou horizontally swings an open hand, similar to Toriko's Knife but with his palm facing upwards, projecting the illusionary image of an axe. It is apparently very fast, as Toriko didn't even perceive the attack until it had stopped before the skin of his neck.[7]
Jirou with only half his body enhanced
Jirou's Knocking equipment
Intimidation Knocking
Knocking Rifle "Hard Type"
Axe Chop
Background
Edit
In his youth, he was traveling partners with Chef Setsuno and both formed a combo together and had many grand adventures. He was also one of the three disciples of the Legendary Bishoku-ya Acacia, along with IGO President Ichiryu and Bishokukai Boss Midora. Ichiryu has referred to him as the second disciple, though disdains being compared to him and calls him a drunk.
Puffer Whale Arc
Edit
Knocking Master Jirou first appeared while on a train to Gourmet Fortune, in order to catch the phantasmal Puffer Whales at the Cave of the Sandy Beach. While on it, the train had run out of liquor as Toriko had bought it all, so Jirou humbly asked Toriko for a drink and he happily gave one too the tipsy old man and Jirou swore he would repay this act of kindness.
Some time later after Toriko and Komatsu had rendezvoused with Coco and went into the Labyrinthine Cave to seek the Puffer Whales, Komatsu had been kidnapped by a Bishokuya Bandit and he planned to use Komatsu as bait to lure away the other beasts but his plan backfired and he was eaten alive, Komatsu was then left alone to deal with a hoard of Scorpion Cockroaches and a Devil Serpent. As a last resort he used a Toriko Cracker to try and scare off the beasts but it mostly failed and it caused Komatsu's heart to stop and his eardrums to break due to the severity of the explosion's sound, the Devil Serpent then lunged at Komatsu but was then easily Knocked by Knocking Master Jirou himself in his giant form, who had just finished catching his Puffer Whales.
Seeing Komatsu's terrible condition and knowing he owed Komatsu and Toriko his gratitude, he proceeded to revive Komatsu using his Knocking Gun and then repaired his ears using the Doctor Lobster's polysaccharide as a membrane. Upon Komatsu's waking, Jirou told him to cherish this second chance at life, however Komatsu screamed in fear thinking he was a "giant old man monster", but then Jirou corrected him and proceeded to tell him that it was he who saved his life. As he left, he warned Komatsu to be careful as "something mysterious" was on its way into the cave. [8]
Reality of Gourmet World Arc
Edit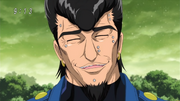 After Toriko entered the Gourmet World, despite his lack of experience with it, Komatsu feared the worst so he called up Jirou to help Toriko should things go wrong, Jirou later arrived to save Toriko from hundreds of Mamews with the help of his knocking. Shortly after that he uses Ikaku Knocking on an Asura Tiger and a King Lander, scaring Toriko as well. Jirou and Toriko later sit down and talk about the difficulty of Gourmet World and Toriko resolves to train himself even further in hopes of being able to enter the Gourmet World with his own power.
Gatsukatsu Curry Arc
Edit
Jirou, along with Setsuno decided to go on a little vacation to the Gourmet Beach where the two spent some time together. While there, they ran into Toriko and Komatsu who also come to the beach seeking the rare Gatsukatsu Curry.
Autumn Break Arc
Edit
Jirou appears as one of the contestants in the 50th annual Gourmet Service Competition, competing for the rare Diamond Figcrystal. The second he got on stage, he was given dozens of points due to one of the judges being Setsuno.
Bubble Fruit Arc
Edit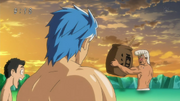 Toriko and Komatsu find Jirou on Drunken Frenzy Island resting in a champagne spring on the back of an Emerald Dragon. He reveals to them that the Heavy Drinker Archipelago is his most favorite location in the Human World and that he frequents it "8 days a week". The two soon join him and he offers them some of his rare Doham Spring Sake from his Full Course Menu, but much to their dismay he realized that he already drank it all before they can have any. Nonetheless the duo proceeds to party with him and enjoy all the wondrous drinks the island has to offer for the next three days before returning back to the main land.
Full Course Menu
Edit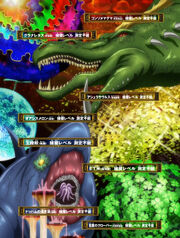 All the foods on Jirou's menu are so rare and powerful that their Capture Level cannot be calculated and some people doubt that they even really exist. All are most likely to have been found in the Gourmet World.
Anime and Manga Differences
Edit
In the anime, when Jirou is first seen in the Labyrinthine Cave to save Komatsu from the Devil Serpent, he is still in his normal form while in the manga his body was already Knocked when he found him. The anime also shows him with his eyes open at least twice while in the manga he has yet to be seen with them open.
Appearances in Other Media
Edit
Toriko: Gourmet Survival 2Edit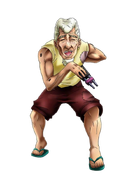 Knocking Master Jirou makes his video game debut in Toriko: Gourmet Survival 2 as an assist character. He along with the Four Heavenly Kings, Komatsu, Koryou and Setsuno was asked by Fond De Bohno to aid in his ingredient procurement trek through the Gattsuki Continent. He is a powerful ally capable of instantly Knocking beasts in dire situations.
Jirou's name contains the second pronunciation of the Japanese character for "two" (ji), referencing his status as the second disciple of Acacia. Jirou's name is also the homonym for the Japanese name meaning "second son"

This fits with Ichiryuu "Ichi" (One) the first disciple.
As well as with Midora: "Mi" is one of the pronunciations for three in Japanese.
It should be noted that just as Ichiryu is "First Dragon", and Midora is "Third Tiger", Jirou could be the "Second Wolf", as Rou is another pronunciation for wolf.

He and Mansam share some similarities...

They both use knocking to increase their power,
They're both rather old compared to the Four Kings,
They're both acquaintances of the IGO President Ichiryuu,
Both are basically drunks.
They both have

metal piercing but he has it in more parts of his body. (Shown in his Young form, in the gourmet world)

Jirou also shares a number of similarities with Fist of the North Star protagonist Kenshiro

Jirou and Kenshiro
When in the Gourmet world, Jirou is wearing a blue jacket similar to Kenshiro.
Kenshiro is a master of Hokuto Shinken, which uses the pressure points to manipulate the body to various effects. This is similar to the idea of knocking which Jirou utilizes.

He ranked 17th in the first Popularity Poll with 86 votes.
References
Edit