Invaitdeath
Bestiary
Japanese Name
インバイトデス Inbaitodesu
Beast Type
Mollusk Mammal Beast
Capture Level
140
Location
Gourmet World
Appearances
Manga Debut
Chapter 194
[

v

 · 

t

 · 

e

]
Invaitdeath is one of the limbs of the Four Beast.
The Invaitdeath is an hairless dark skinned mollusk mammal beast, with two pieces of hair coming out of its nostrils, forming whiskers of a sort. The backside of the head show several veins. The beast is quadrupedal, with all the legs resembling hoofs, but are actually tendrils formed around a large spikes within.
Powers and abilities
Edit
The Invaitdeath coming from the Gourmet World shows proof of its incredible strength. The Invaitdeath also melted a tank of the army, but how it did it is currently unknown. It was also able to easily swim down Death Falls.
Antibodies: Invaitdeath is also able to create a large number of Antibodies.
It has 2 massive hairs coming out of its nostrils, which are able to shoot continuously large amount of poison from its head, that stores its dissolving poison, which is capable of instantly melting any object. The Invaitdeath also hides a large spikes in the tendrils of its legs, which it uses to drill into the ground and can erode large amount of the land with poison.
Several hundred years ago, the Invaitdeath grew in the limbs of the Four Beast and was planted in the Gourmet World to enter the Human World to lead the humans into the center, to let the Four Beast eat them all. Invaitdeath entered the Human World from the North and came swimming down the Death Falls.[1] When that Allied Army Force started to attack, the Invaitdeath is unphased and melts the tanks the Allied Forces mobilized against it, but stops when Coco and Kiss show up in its path. As Coco tries various poisons on it order to defeat the beast, the Invaitdeath fires bullets of dissolving poison that seems to destroy Coco and Kiss. However the attack just hit a Poison Doll, and as Coco was about to unleash his trump card poison, the Invaitdeath pierces the ground with a spike hidden in its leg and starts eroding it. Later during the fight it was hit with Coco's Poison Virus that was on the arrowhead that was launch from his Poison Bow. It gotten weaker because the virus was creating a poison that the Invaideath didn't have and a later finish off by the Mold Spear. After being defeated by Coco, Invaitdeath retreated and began heading towards the Four Beast's main body, where it was reabsorbed along with Mounturtle, King Octopus Kong and Gaoh.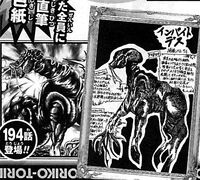 Created Shiga Prefecture's Penname 狗児十-san
References
Edit
↑ Toriko manga- Chapter 194. Invaitdeath appearance.