Four Heavenly Kings
Comments

44
2,303pages on
this wiki
The Four Heavenly Kings (四天王, Shitennou) is the name commonly given to the group formed by Toriko, Coco, Sunny and Zebra. They all are incredibly powerful Bishokuya who were trained since childhood by IGO president Ichiryuu.
Despite the presence of stronger and more experienced individuals than the kings existing, what truly makes the Four Heavenly Kings the most idolized and recognized bishokuya of their generation is the countless achievements they have made in the field of gourmet hunting by discovering countless new ingredients, with just one of their members having discovered over 6000 kinds of new ingredients. It is these many discoveries and contributions to the Gourmet Age that makes them stand out among other bishokuya, making them "Gourmet Hunters" in the truest sense.
Superhuman Senses
Each of the Four Heavenly Kings have honed one of their five senses to extreme levels :
It goes without saying that the fifth sense (taste) has been heightened greatly due to the large amounts of food the four have consumed, though still a far cry from the taste skills of the Gourmet Seven. For example, Toriko was able to determine some of the ingredients in Century Soup by tasting it once.
Superhuman Abilities
Each of the Four Heavenly Kings have been implanted with Gourmet Cells that have given them superhuman abilities. They are:
Members
Animal Partners
Each of the Four Heavenly Kings have an animal partner, powerful beasts (with unmeasurable capture level) that have been tamed and now work with them acting as their companions. Zebra and the Dharma Horse are a possible exception as it was "lent" by the Dharma-Hermit to Zebra.
History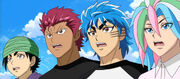 The Four Heavenly Kings are some of the most renowned, powerful, and influential Bishokuya that have ever existed. Before the beginning of the story, the four trained from a very young age together under the tutelage of
Ichiryuu
, who also presumably implanted them with
Gourmet Cells
. Having endured incredibly harsh training the four grew into superhuman Bishokuya. By the time of the current story, each member has become individually renowned in their own unique ways. Toriko becomes famous for discovering and categorizing new ingredients; although mainly for his own enjoyment, as opposed to forwarding knowledge.
Sunny
became famous for his vanity, as well as his Bishokuya skills.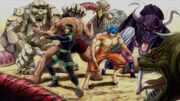 Coco
eventually decided to quit the Bishokuya life and live in semi-seclusion near
Gourmet Fortune
; this was partly to escape the attention of IGO scientists who wanted to examine his body's poison abilities. Zebra's monstrous power and appetite eventually made him an infamous criminal and one-man natural disaster; his wiping out of whole species dramatically affected ecosystems, changed the course of wars, and threw whole nations and economies into turmoil.
Although they trained together and complement each others abilities, the Four Heavenly Kings are reluctant to band together for any reason. This is mostly due to petty personality conflicts, rivalries, or reluctance to share food. Toriko believes that Komatsu, who has grown close to each of the four, is the key to eventually reuniting them.
Poll
Favorite Four Heavenly Kings in Toriko
Trivia
The term "Four Heavenly Kings" or Shitennou was used in Japan as a title for the four strongest and most loyal vassals of various famed warlords, including Minamoto Yorimitsu, Takeda Shingen and Tokugawa Ieyasu. The term is likely a nod to the mythological Four Divine Beasts of Si Ling, common in China and Japan.