Coco/Abilities
Comments

9
1,818pages on
this wiki
Hunting Method
Edit
Due to being exposed to so many poisons, Coco's body became capable of synthesizing its own powerful poisons. Coco's poison can be secreted from any part of his body, and he can control its concentration and effects. The poison tends to become darker when he increases its lethality. Producing different types of poison and applying them in different ways gives Coco a variety of abilities. Coco's body contains over 500 different types of poison antibody, and can adapt nearly instantly to new ones. It should be noted that some of Coco's poisons act more like acid, and in some cases, they are actually composed of acid, giving his poison highly corrosive properties.
Intimidation
Edit

Most wild beasts can sense the danger of Coco's poison, frightening them off instantly. Coco's actual Intimidation takes the form of an emaciated traditional Japanese ghost with stringy black hair and an empty, void-like mouth and eyes.
Superhuman Vision
Edit
Coco's enhanced sense as one of the Four Heavenly Kings is vision. He has the ability to see non-visible spectrums of light and can read electromagnetic auras in order to predict an animal's (or person's) next action. This serves as the basis of his fortunetelling abilities. Coco's visual processing abilities are similarly enhanced to keep up with this visual prowess; Toriko notes that the symbols on Gourmet Casino's enormous and unpredictable 100-wheel slot machine are essentially 'standing still' for Coco.
Fortune Telling
Edit
Coco earns most of his living by working as a fortune teller, and his fortunes have a 97% accuracy rating. His visual powers can even see the "Shadow of Death" over people and animals who soon will die. While these predictions of death are generally accurate, they can sometimes be subverted in various ways, such as when Komastu temporarily died as Coco predicted, only to be revived by Knocking Master Jiro.
Synesthesia
Edit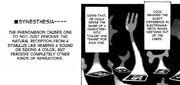 A phenomenon which causes one to not just percieve the natural reception from a stimulus like hearing a sound or seeing a color, but percieve completely other kinds of sensations. Using this sense Coco grasped the slight difference in electromagnetic waves seething out of the Gourmet Tasting Cards during the game of Food Concentration against Livebearer. Using his synesthesia Coco could easily discern the cards electromagnetic waves and by forming them into images he searched out cards having the same 'color' and 'shape' allowing him to predict which cards were hits and which were not.
Coco is skilled enough to knock a Puffer Whale, using a Delicate-Type Knocking Gun. He was also able to use his poison to knock Livebearer.
Tactical Genius
Edit
Coco has demonstrated excellent tactical ability, as shown during his battle against a GT Robo, where he uses his poisons to bypass the robots poison defences, infiltrate its body and melt the Robo's Core antenna, as well as during the Food Concentration game. He correctly predicted that his opponent, being the owner of the entire casino, would have rigged the entire game set-up to be in his favour as much as possible, and successfully used Livebearer's arrogance and complaceny against him, through Coco's own prior knowledge of poison and the properties of the various ingredients in the game.
While not a Chef, Coco has displayed some knowledge and ability to prepare specially-prepared Ingredients, particularly those involving poison, such that he is one of the few people capable of successfully removing the poison sack of a Puffer Whale (though he admits that his success rate is very low compared to others and is incapable of perfoming the task if tired in any way). He also provided advice to Komatsu during the process on how to prepare some of the ingredients during Food Concentration, demonstrating advanced knowledge on preparing ingredients for their nutritional value and which ones complement each other the best.
Poison Techniques
Edit
Offensive Techniques
Edit
Poison Cannon (毒砲 Doku Hou): It is when Coco gathers a ball of lethal poison around his fist and fires it as his opponent.

Poison Rifle (ポイズンライフル): Coco fires minuscule amounts of poison from his fingertips, sometimes adding spin to increase his accuracy.

Poison Sword (猛毒刀 Mou Doku Katana): Combining his poison with clotting agents from his blood, Coco creates a blade of solidified poison.

Poison Bow: Using the same principle as Poison Sword, Coco can create a solid bow and arrow made of poison to fire his poison as a long-range attack.

Mold Spear: A spear made with poison similar to mould spores, the speed of which is the fastest speed reached by any living creature in the world (close to the speed of light), making it impossible to dodge when thrown. Currently, Coco can only manage to create one spear at a time.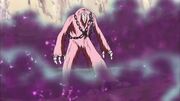 Hell Poison (地獄毒 Jigoku Doku): A powerful poison Coco uses when he wishes to destroy his foe entirely. He only uses it when no other lifeforms who might be harmed are around. The poison itself is a chemical made by Coco rapidly vaporizing his body's waste products and has a similar composition to volcanic gas. As well as being deadly when inhaled the poison is highly corrosive, even flammable and explosive.

Aqua Regia (王水 Ousui): A liquid poison Coco creates using concentrated hydrochloric acid and nitric acid at a ratio of 3 to 1. With it he can melt even gold and other normally non-corrosive materials. Aqua Regia is the Italian (outdated) for "Water of the King".


Poison Virus: A special virus that adapts itself to a poison that the target has no antibodies for, it is used on creatures with antibodies that counteract all of Coco's other poisons.

Machine Gun Poison: Coco fires small bullets of highly corrosive poison at a very rapid rate from his fingertips.
Defensive Techniques
Edit
Poison Dressing (ポイズンドレッシング): Coco's skin becomes flush with poison. This serves as asort of armor for him, as wild beasts can detect this poison from afar and become wary of approaching or attacking him.

Poison Membrane (毒膜 Doku Maku): It is when Coco 'sweats' a large amount of poison, forming a layer of liquid poison over his entire body. This poison forms a protective barrier against other poisons or corrosive chemicals.

Poison Armor (ポイズンアーマー): Using the same principle as the Poison Sword, Coco creates solidified poison armor in the shape of a Samurai's armor.
Supplementary Techniques
Edit
Life Erase (消命 Shoumei): A technique that erases your presence allowing you to get close to an animal without it being aware. Coco used it while hunting Puffer Whale.
Poison Jamming: Coco coats the antenna of a GT Robot to disturb the electromagnetic waves.
Poison Knocking: Coco induces knocking on the target by coating their body in poison.
Heat Poison (熱毒 Netsu Doku): A special heat-generating poison (possibly acidic) which can melt through thick ice.
Poison Doll (ポイズンドル): After his training in Food Honor, Coco can create a perfect duplicate of himself or someone else made with poison. The duplicates are so flawless that the duplicate of Kiss could fly independently and revealed bones when destroyed.
Joint Attacks
Edit
Paralyzed Nail Punch (Unamed): A combo attack done by Coco and Toriko. Coco shoots paralying poison and waits for it to take effect while Toriko charges up his 5-Hit Concentrated Nail Punch. Once the poison paralyzes the target, Toriko hits the the target with his attack. This was used on a Devil Serpent during the Puffer Whale Arc.
Dinner of Kings (王食晩餐 Ou Shoku Bansan): A joint attack using the effort and Appetite Energy of all Four Heavenly Kings. The Kings concentrate their all their energy into a ball of pure appetite, which, when launched, turns into a giant all-consuming maw. The attack will then proceed to consume the prey, regardless of the opponents actions, until it is completely eaten, and form into a ball, which harmlessly bursts after some time. One of the greatest advantages of this technique is that it will only aim for the intended prey, and nothing else, leaving anything unnecessary in a seperate sphere. The greatest disadvantage of this technique is that the process of making this move requires a great deal of concentration and energy, leaving the users vulnerable to attack. Furthermore, for this technique to work, the users "appetite" and "spirits" need to sync.
Poison Sound Armor: A combo attack done with Zebra. Coco covers the target with poison to infect enemies who touch the target while Zebra protects the target by using Sound Armor. This was used to protect Komatsu from Starjun during the Cooking Festival Arc.
Food Honor
Edit
With the teaching of Food Honor he learns how to reduce his useless movements, be more delicate, faster, stronger, and created new types of poison.
Food Immersion
Edit
Coco has mastered Food Honor to the extend of learning the secret technique of Food Immersion, with this ability he can store and produce enough poison to create a copy of himself and Kiss for his Poison Doll, flood the area where he is fighting and still be able to produce more to battle with.