"
This time I'll be the one cooking you... using poison as the spice.
"

—Coco, to Gido in their fight.

Coco (ココ) is the "Gentleman" of the "Four Heavenly Kings" (四天王, shitennou) and is good friends with Toriko, with whom he was raised with and trained with. While Toriko mostly relies on his brute strength, Coco prefers using stealthy techniques and cunning strategy to subdue aggressors. He is also strong defensively; he is immune to five hundred different kinds of poison. His fortune-telling has made him extremely popular with women and results in him being mobbed by customers when he is in public. He, and the other Four Heavenly Kings, were trained by Ichiryuu, the President of the IGO.
Appearance
Edit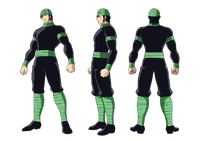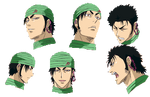 Coco is a very tall, muscular 27 year old man with a striking face. He has black hair the style of which fluctuates frequently; it is straight naturally and choppy and fluffy when cut short. Coco has prominent sideburns running down to the angles of his jaws, and short bushy eyebrows. He has piercing brown eyes; they are black in the manga but are colored a much lighter brown in the anime. Coco generally wears an all black suit with green bands wrapping around it at the wrists, elbows, waist, neck and an additional one on top of his head. He has been shown to remove these bands to fight, suggesting that they restrict his poison capabilities somewhat. On his turban he wears a purple pin in the shape of the letter "P". Coco's ears are pierced; his right ear sports gold stud in the lobe and what is either two purple studs or an industrial piercing in the scapha, and in his left ear is a single gauged plug from which dangles a fuchsia chain that attaches to a clasp worn on the helix of the same ear.
Personality
Edit
Coco is known as the Gentleman of the Four Heavenly Kings, and as such acts in a very kind manner. He has experienced a very uncomfortable life in the past due to his ability to produce venom and his massive degree of mithridatism, which is abnormal to even Bishokuya. IGO scientists wanted to use him for various medical serums that could be derived from his body. While being a very respectful and well mannered person he usually tends to keep people at arms length (while doing this in a most polite way) due to his past and the fear of invenomating others, a problem which he did overcome thanks to Komatsu's cheerful personality. Coco lives a semi-isolated lifestyle by making his home on top of a geological tower in the middle of a valley. He reaches it by flying across the rift on the back of his pet Emperor Crow, Kiss. Coco lives in this remote fashion due to the fear of accidentally invenomating other people (before Komatsu helped cure him of this phobia, see above), though (before returning to Gourmet hunting due to Toriko's insistance on his help with hunting Puffer Whales) he does go into Gourmet Fortune in order to make a living off of soothsaying.
Despite his inherently gentle nature, Coco has displayed that he is ruthless when facing powerful enemies. Coco uses his exceptional intelligence as a dangerous trickster and master of manipulation. When facing the GT Robot remotely piloted by Gido at Regal Plateau, he used his Poison Hell attack as cover to launch nitric acid and hydrochloric acid at the robot. Coco knew that Gido would ignite the Poison Hell gas cloud in defiance; and when the latter did so he evaporated the nitric acid and hydrochloric acid, allowing it to seep into the cavity containing the GT Robot's two-way antenna. The two acids mixed into aqua regia on the gold-plated antenna, destroying it and rendering Gido's GT Robot immobile.
During the Meteor Garlic Arc; Coco tricked his opponent Livebearer during game of a "Gourmet Tasting" variation of the card game "Nervous Breakdown". Through his action during the game, Coco manipulated Livebearer into eating ingredients that would prevent him from negating the toxins within the Poison Potato, the final pair of cards the latter was outwitted into drawing. Livebearer could not consume the Poison Potato and lost the game. At the same time Coco set up Toriko with ingredients that would virtually negate the Poison Potato's toxins, on a hunch that the ingredient would be compatible with Toriko's Gourmet Cells. When face against Invaitdeath he show a confident side as he stated he is unable to see the shadow of death on it yet and later on said in half-hearted manner that he is beat.
Full Course Menu
Edit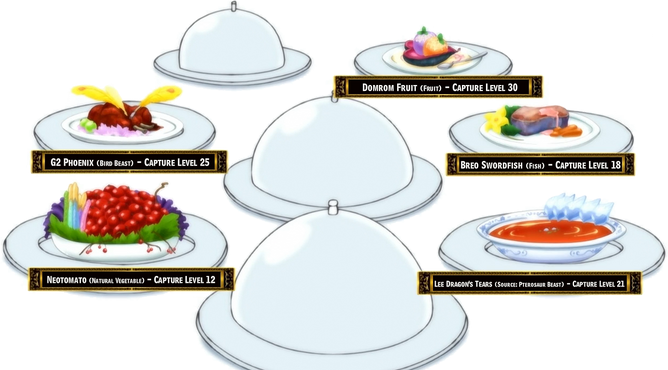 He ranked 2nd in the first Popularity Poll with 2256 votes.
He is the only Heavenly King who hasn't shown any interest in wanting Komatsu as a partner.
Coco's clothes bear a striking resemblance to those worn by Piccolo , the protagonist of the Dragon Ball