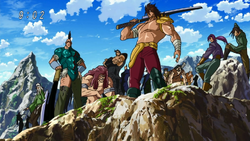 Gourmet Hunters (美食屋, Bishoku-ya) are individuals specializing in the acquisition of High-Level Ingredients.
Due to the difficulties inherent in securing certain ingredients, many have trained their abilities to superhuman levels. Be it unusual displays of strength, phenomenal speed, or unrivaled endurance, these hunters are known for their capacity to surpass any normal, armed human being. A list of named characters confirmed as Gourmet Hunters can be seen below.
Ad blocker interference detected!
Wikia is a free-to-use site that makes money from advertising. We have a modified experience for viewers using ad blockers

Wikia is not accessible if you've made further modifications. Remove the custom ad blocker rule(s) and the page will load as expected.