Bubble Fruit Arc
Comment

1
2,246pages on
this wiki
The Bubble Fruit Arc is the 14th arc in the series and spans from Gourmet 174 to 192.
Summary
Fortune Telling Sushi Chef Monchy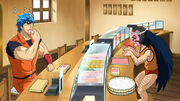 Toriko, After capturing Meteor Garlic is looking for his next training ingredient. He arrives at a place called Artisan Forest which has all kinds of flora which have some special properties that can be used in making handicrafts by the artisans. Toriko is attacked by Devil Plant Horse. After it dodges his attacks , Toriko uses his Flying Fork on a tree which produces quick drying cement. The cement covers the beast and Toriko defeats it in an instant. The locals artisans thank Toriko for his help. The artisans notice the quality wood that from the Devil Plant Horse's armor and decide to use it. A man wearing a mask enters the scene and says that he will take all the wood for his sushi boards. The artisans protest and say "don't be greedy Monchy". Toriko reacts to this and asks if he was Monchy. Monchy introduces himself as the "Fortune Telling Sushi Chef Monchy".
Toriko then says that he can't find a training ingredient while eating sushi at Monchy's shop. he says that it would be hard even if he uses Coco's fortune telling. He then says that he came to him hoping that he can help him find it. He says that his training ingredient is hidden in the Lost Forest. Monchy reacts asking if he's a moron(Monchy uses this line quite often) and he says its no easy task predicting that. Monchy then said that he needs the right components to predict the ingredient. Toriko then heads out to the 2nd Biotope. Komatsu is riding Tom's helicopter to reach the spot where Toriko called him. Komatsu panics when he's said he has to jump out. Komatsu falls of the helicopter after Tom launches his seat. Komatsu lands one a Helicopter landing spot and is greeted by Toriko. Toriko says that they are at the 2nd Biotope. Toriko says that the 2nd biotope is dedicated in researching marine ingredients while walking with Komatsu. They reach a restaurant, A part of the 2nd Biotope which is open to public.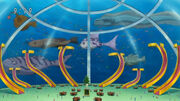 They are served some exotic seafood. While eating Toriko says that he doesn't know the location of one of the training ingredients but knows its in the Lost Forest, The largest sea of trees in the Human World. He then says that Monchy uses the Ehou Maki to predict the direction of ingredients using the Ehou Maki points. Toriko says that its always 100% accurate. He says that Monchy cannot make the Ehou Maki unless he's provided good components. He said that he came to the 2nd Biotope hoping he would get some good component. Suddenly a staff of 2nd Biotope appears and says that he has a message from the President of IGO. The President in his message says that Pot Pond has frozen. He ordered all the Heavenly Kings to capture the Madam Fish , The master of Pot Pond.
Capturing the Madam Fish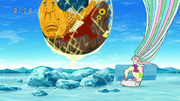 Toriko, Komatsu and Rin head to the frozen Pot Pond. Komatsu's partner Yun is having lot of fun on ice as he's from the frozen Ice Hell. Coco arrives followed by Sunny and Zebra. Its the first time in the series that all the Four Heavenly Kings assemble. Zebra proposes there be a contest to see who captures the Madam Fish first. All of them agree and go to different directions. Toriko says that Komatsu's Food Luck makes him the favorite to win. Komatsu is startled about the fact that he's going to feature in the contest. Toriko says that the Pot Pond is a natural soup stock after sensing some top quality ingredients in the lake. Rin asks why Toriko wants to capture the Madam Fish. Toriko says that he needs it to make the Ehou Maki. Rin then says that she will fish with Toriko. Sunny while looking for Madam Fish describes its flavor and taste and says its a beautiful ingredient. Coco then reveals that the Capture Level of Madam Fish is 83 because it very rarely appears and not due to its fighting capability and the only chance is when the lake is covered with ice.
Komatsu is worried about where to fish as the Pot Pond's size is 300 square kilometers. Zebra then asks Komatsu if his cooking skills haven't  decreased. Komatsu says that he's been polishing his skills with every day. Komatsu asks if he decided his Life Time
Full Course Me
[[Full Course Menu|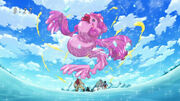 ]]
nu
. Zebra then says that once he knows it he won't stop drooling. Zebra then reveals his updated Full Course Menu as Fierce God Intestines for Hors D'oeuvre, Equator Soup for Soup, BBQ island for Meat Dish,
Dharma Hermit
's Tribute for Dessert,
Mellow Cola
for Drink. Zebra asks if Komatsu is interested to form a combo with him. Komatsu says he's Toriko's partner. After being unable to Capture the Madam Fish , All of the Heavenly Kings try to find a better spot for fishing and all of them end up near the spot where Komatsu was fishing. All of them ask Komatsu on how much Food Luck he has. Suddenly Rin notices that Komatsu's float was responding and then Komatsu fishes the Madam Fish out. Just then
Jackal Kite
appears also known as Madam Killer which is a scavenger and steals the food other beings caught. But the Heavenly Kings chase it away and successfully capture the Madam Fish. Back at the
IGO
Headquarters,
Ichiryuu
is impressed that
Nono
,
Setsuno
's apprentice freezes the Pot Pond in an instant. Setsuno was concerned about how
Midora
and Ichiryuu  couldn't reach on an agreement.
Capturing the King Vinegar
Toriko and Komatsu are riding Tom's speed boat to an island. Komatsu notices a big shark swimming toward them. Toriko says its a Drunk Shark. When the shark leaps over the boat and into the sea again , the sea water falls on Komatsu and Toriko. Komatsu notices it was not sea water but White Wine. Toriko says that its a Liquor Sea and explains that the seas around are made up of different kind of liquor. Tom then says that they have reached Heavy Drinker Archipelago. Toriko says that its an area off limits to anyone who's age is less than 20. Komatsu says that he's of the same age of Toriko. Toriko and Komatsu alight at Drunken Frenzy Island. When Komatsu asks why they had come to the island. Toriko said that when he went back to Monchy with the Madam Fish, Monchy said that he cannot make a Ehou Maki without vinegared rice and that's why they went there.
Then they meet the
Drunken Cattle which
is on
Mansam
's Full Course Menu. Toriko then says that all the wild beasts on the island are drunk. Then they find a fountain of hig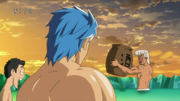 h class brandy and encounter a
Brandy Tiger
. Toriko says that Komatsu can drink as much as he wants after eating the
Ukon Unko
without getting drunk. Then then see many ingredients which are either alcoholic or snacks to with alcohol. Then a
Emerald Dragon
appears which has top quality wine springing from its back. When it does not attack them, Toriko realizes that it had
Knocking
applied on it. They notice
Jirou
on back of the Emerald Dragon.
Jirou invites them to take a Emerald Wine bath. Jirou says that at most , he comes to the island 8 times a week. Komatsu then notices a sake bottle and asks which sake it was. Jirou says that it was the drink from his Full Course Menu. Toriko is surprised and asks if it was Doham Spring Sake. Komatsu gets so much surprised that he sobers up. Jirou then says that he drank it all and they can get some themselves when they go to the Gourmet World. He then says them                                                                to drink all they want in the island. Toriko and Komatsu then help themselves with lot of alcohols.
Capturing the Dodurian Bomb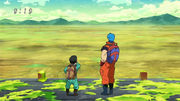 After Toriko and Komatsu capture the King Vinegar, They go to Monchy's shop. Komatsu said that they drank so much that they were hungover for a week. But Monchy said that the components weren't enough for him to make the Ehou Maki. Toriko and Komatsu then go to Teppei. Toriko says that the idea came to him after seeing Jirou's pompadour and said that a good Saiseiya like him can suggest good ingredients. Teppei suggests the ingredients that he revived recently which are Cafe Ants, Salmon Roe Grapes, Mochi Stones. Toriko says those ingredients are not strong enough for an Ehou Maki but Komatsu is impressed as he didn't see these ingredients anywhere. Teppei then says that in recent times Saiseiya started recklessly reviving ingredients without a permission from the IGO. Then he says that it was him mostly doing it. He then says that he had revived something remarkable, The world's smelliest ingredient, The Dodurian Bomb.
Toriko and Komatsu then go to the place where Dodurian Bomb is by train. They get off at an unmanned station. Komatsu finds it extremely stinky, Toriko tries to put a fight to the smell but at last gives in to the stink. When Komatsu thinks of putting on a protective clothing , Toriko stopped him saying that its a Special Preparation Ingredient and melts away if they put of protective clothing. When they think of eating their dinner , The food they brought with them rotted due to the extremely stinkiness. They reach the Dodurian Bomb which is ripe enough and about to fall off. Komatsu and Toriko panic at this and try to encourage each other. The Dodurain Bomb falls down and a massive smell spreads throughout making different known characters make them shocked (except for Teppei and Zonge). Back at the Hotel Gourmet, Toriko and Komatsu are back from capturing the Dodurian Bomb which took a month for them to conquer the stink. But to their surprise the stinky got stained on them.
Capturing the Eco Nori and the completion of Ehou Maki
Toriko and Komatsu are riding Terry to go to a place. Toriko and Komatsu are happy that the stinky smell that got stained on them had worn off after eating the Dodurian Bomb. Komatsu asks him if the ingredients they gathered were not enough for the Ehou Maki. Toriko says that there is only one left which was Nori to wrap the Ehou Maki. Komatsu is surprised that they do not have something so basic. They reach a place with hills and are suddenly attacked by someone. Toriko defends by using his Fork Shield and Knife. A person belonging to the Gourmet Knights introduces himself as Akimaru. Then Takimaru shows up and greets Toriko and Komatsu. Toriko then says that they came to get an ingredient. Toriko notices Takimaru's Gourmet Cells were more active than before. Toriko asks him if the attack before was due to the order of his leader.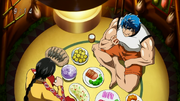 Then the leader of the Gourmet Knights, Aimaru shows up and greet Toriko. While they were heading back to the Gourmet Kngihts camp, Aimaru asks Toriko not to overrate Takimaru as he is still inexperienced among their members. Then a member of Gourmet Knights, Yukimaru introduces himself as a member of the Blue Sky Group. Then another member, Raimaru introduces himself as a member of the Blue Sky Group. Then another member, Kagemaru introduces himself as a member of the Hidden Leaf Group and finally Tsukimaru introduces himself as a member of the Milky Way Group. Toriko then says that they were to skinny and asks them if they were eating properly. Aimaru asks him to stop as they have a doctrine to follow of keeping a simple diet. Toriko says that he is not interested in the Gourmet Knight's doctrine. The members of Gourmet Knights are surprised seeing Aimaru talk so much as they had never seen it before. Meanwhile Takimaru asks Komatsu what ingredient they wanted to get. Komatsu says that they were looking for Nori. Takimaru says it must be Eco Nori which is in the Eco Land, A town nearby and says he will be happy to guide them there the next day. At night Toriko is in Aimaru's tent and asks him if he's ready to capturing GOD. Aimaru then says that he had assembled his Full Course Menu which are Modest Grass for Hors D'oeuvre, Graceful Soup for Soup, Frugal Sardine for Fish Dish, Charm Pig for Meat DIsh, Simplicity Rice for Main Dish, Inexhaustible Potato for Salad, Plumpeach for Dessert, Quiet Tea for Drink. Toriko says that he is impressed as all the ingredients were simple. Then Toriko and Aimaru start arguing again.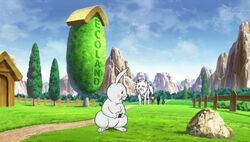 The next day, Takimaru leads Toriko and Komatsu to the Ecoland. Komatsu says that it was a tranquil village. Takimaru says that the village does not have basic facilities for living and live on nature's products only. Then a person comes throwing bombs on wild rabbits and he asks Komatsu if he was an idiot. Komatsu replies that he was not an idiot and thinks that it was Monchy. Takimaru says that it was Nonchy Mayor of the village. Toriko then says that Monchy, Nonchy are siblings. Nonchy says that they are actaully quintuplets. Komatsu then sees a stove lit with a vessel on it and asks Nonchy where the gas came from.  Nonchy replies that there was no gas running but the Ecoeco Skunk shares the gas from their stomachs, He also added that they get water from the Water Storage Sea Cucumber and fire from the Fire Marimos. Komatsu notices they have electricity too as he notices an electric bulb. Nonchy then says that the sun will come down soon so he will connect the power source and also said that the ingredient they want is there too.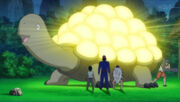 He shows then the
Solar Turtle
outside his house which has natural solar panels on it and shows them the power plug which connects to the Solar Turtle. He then says that when the power supply runs out , a thin layer of the shell can be peeled off which itself is the Eco Nori but he then says that he can't let them have it for free. Nonchy says that the weather had been bad lately and the Solar Turtles can't keep up and for that there is a method by which the Solar Turtles can be charged by hand. Toriko then charges the Solar Turtle with a handle. Seeing this the people of the village request Toriko to charge their Solar Turtles too. Toriko then charges every single Solar Turtle. By daybreak, Toriko collects a lot of Eco Nori.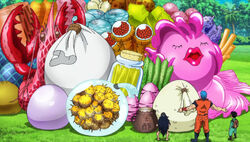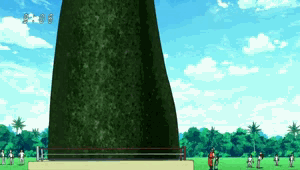 Then Toriko and Komatsu bid farewell to Nonchy and Takimaru and head back to Monchy's shop. Monchy says he ready to make the Ehou Maki. The local artisans bring a Chopping Board Ring to them. Monchy then throws an ingredient into the ring and asks Toriko to ring the bell. Monchy then starts doing some fighting moves on the ingredients which are Monchy Press, Monchy Hyper Back Drop, Monchy Lariat, Monchy Arm Lock and Nori Wrap Suplex. Komatsu notices that the ingredients were being made softer and the taste condensed. After 2 days of continues work, Monchy completes the Ehou Maki. The Ehou Maki is very very large. Monchy said it had to be that big for the ingredient they wanted him to predict. Monchy then says that it will expand some several thousands of kilometers after it falls down and that is the direction they want to go. Finally the Ehou Maki falls down and Monchy says that if they eat and follow the direction , They will reach their ingredient. Toriko and Komatsu then start eating the Ehou Maki and follow it.
The Disappearing Cuisine and the Shokurin Temple
Toriko and Komatsu are eating the Ehou Maki and following the path to get to the Lost Forest. They eat a lot of good ingrediants and continue to do so. Komatsu asks why none of the wild beasts are eating it though it was delicious. Toriko says that the Dodurian Bomb is making the wild beasts stay away even if it was a small amount in the Ehou Maki. They finally reach the Lost Forest and Toriko says that its a place of an area of 30 million square kilometers and due to its unique magnetic field, Compasses and GPS won't work. Komatsu then asks Toriko on what ingrediant they were after. Toriko says its a soap bubble or fruits made of soap bubble , the Bubble Fruits. Suddenly they find a deep hole in the middle of the forest and also find someone stole the Ehou Maki. Toriko then sees someone holding components of the Ehou Maki and runs after him. Toriko and Komatsu then reach a place where Toriko could smell both the components of Ehou Maki and then person who stole it but couldn't see him. Then they suddenly find the Disappearing Cuisine , A 10-star restaurant in the middle of the forest. Both of them are shocked to find it as they weren't expecting a 10-star restaurant in such an isolated spot.
Toriko and Komatsu decide to pay a visit to the restaurant. When they are about to enter the restaurant, It  suddenly disappears into thin air. Then they hear a voice which tells them to put their hands together and bow. They do that and this time, The restaurant doesn't disappear and they go inside. They are Greeted by Chiru, A chef ranked 15th in the world rankings. She welcomes them to the Disappearing Cuisine. Just then Toriko sees another pair of slippers and understands that there was another customer. While walking in the restaurant, Komatsu asks why it was situated in such an isolated spot. Chiru says that they handle very delicate ingrediants and one who is not aquanited with Food Honor cannot eat their cooking. She says that the restaurant disappears whenever a wild customer appears and it is built with a Gourmet World wood made from the shiest tree in the world, The Invisibility Tree. She then said that it was a rare achievement by Toriko and Komatsu as they were able to locate the restaurant. Toriko then said that they just followed a wierd guy. Then the same guy who stole the components of the Ehou Maki and says that a customer still wants to eat more. Toriko notices him then Chiru comes to know about everything that had happened. She asks Chirin, Her staff to apologise. Chirin then said that when he found the Ehou Maki , it was already in pieces and took only a little piece.
Toriko then says that they will find thier way to Bubble Fruits on their own. Chiru then says that the Bubble Fruits are located even deeper in the forest and are the temple treasures of the Shokurin Temple. Toriko says that its a legendary temple that no one knows details about. Chiru saus that Bubble Fruits are one of the most delicate ingredients and they used to serve them in their restaurant. Komatsu is amazed and asks if people were able to eat them there. Chiru says that she still lacks the skill to handle the ingredient. Then someone asks for more portions of food. Chiru hurries to serve him. Komatsu remembers that it was the same voice they heard before. Toriko and Komatsu are then served Kelp Sake. Toriko excitedly takes the cup near his mouth but the sake's flavour escapes. Chiru then says that they should not disturb the surface of the water. Komatsu also couldn't drink it. They are then served Sunshine Cheese, A cheese which must be kept in sunlight till consuming it otherwise it will get dry and hard. Both of them are successful in eating it. They are then served Million Tomato, But they couldn't consume it. Then they are served Star Rice, Which has to eaten without blinking even once. Toriko and Komatsu couldn't help blinking due to the bright shine of the Star Rice and it becomes black. This way Toriko and Komatsu were not able to consume all the cooking of the restaurant. Komatsu says that though the dishes were hard to cook, He never imagined that eating them would be difficult too.
Then they notice the person who was eating from the before. He completes eating the food. He then says that a age did exist where it required Food Honor to eat food and said that Tomiko and Koike(Toriko and Komatsu) would have died in such an age. He complements Chiru for her food. Chiru says "Thank You, Master Chin". She then says that he is the master of the Shoukurin Temple and one of the Gourmet Human National Treasures, Chin Chinchin. Master Chin then says to Toshio and Kosugi(Toriko and Komatsu) that he heard from the IGO president Ryuuichi(Ichiryuu). Toriko says that he got their names wrong and his father's name is Ichiryuu. Chiru then says that she learned Food Honor from Master Chin when she was little. She then advices Chirin to go for some training as well. Chirin declines to go as he heard that the training was very intense. Master Chin then says to Tommy and Kotani(Toriko and Komatsu) to follow him. Komatsu then says that their names were Toriko and Komatsu.
Chiru while bidding them farewell asks them to come to her restaurant after training as they will be able to eat all their cooking. He then asks Chiro(Chiru) if Granny Chiyo has returned yet. Chiru says that she still has not returned. While walking in the forest , Komatsu asks Master Chin if she was the former 5th in the world chef rankings. Master Chin says it was indeed her, The Disappearing Cuisine's first generation head chef, Delicate Cooking Chiyo. He then said that after her disappearance, Many chefs in the world have been disappearing at an alarming rate. He then asks Tominaga and Kojima to watch their step. Toriko and Komatsu are annoyed as Master Chin pronounced their name wrong. Then the ground on where they were standing disappeared. Then it comes to light that it was Master Chin who ate the Ehou Maki. He then asks Toriko and Komatsu to look at the scenery with great respect and appreciation. Then the Shoukurin Temple emerges in fron of them. Master Chin welcomes them to the Disappearing Temple.
Characters
Beasts
Ingredients
Techniques
Anime and Manga Differences